Ñaña Spain we are a Spanish family business that, generation after generation, produces high quality organic extra virgin olive oil. The privileged environment of our olive trees, the specific conditions of our land and the good work in the field transmitted over the years by our family make our organic extra virgin olive oil unique and singular.
At Ñaña we care about what we do and how we do it. Our organic farming extra virgin olive oil is made respecting the environment and protecting biodiversity in all its forms, and maintaining the highest quality standards throughout the production process.
Ñaña we are a Spanish family business that combines tradition and modernity in the production and marketing of our organic extra virgin olive oil. Generation after generation, we continue working with the same passion and enthusiasm of the first day in the elaboration of our EVOO, pure olive juice that represents the feeling of our family and the values that define us.
We have been adapting to the new times, promoting the culture of the olive grove and innovating in processes and products, always maintaining the highest quality as a priority in our extra virgin olive oils. The third generation of Ñaña has assumed the challenge of continuing the family tradition of making excellent organic extra virgin olive oil and conquering the palates of the largest number of consumers around the world who appreciate the quality of our EVOOs linked to their origin in Spain.
In Ñaña, our extra virgin olive oil is more than a product, it is a philosophy of life. That is why among our priorities it is to disseminate and promote knowledge of the benefits of our EVOO and its consumption in the daily diet. Our "liquid gold", rich in healthy fats and natural antioxidants, is an essential food in the Mediterranean diet for its nutritional characteristics and its numerous health benefits. From Ñaña, we invite you to follow a healthy lifestyle in which there is daily consumption of our organic extra virgin olive oil.
Premium organic extra virgin olive oil from early harvest. Thanks to the control of the entire production process, from organic farming to packaging, our organic EVOOs are granted with various quality certificates guaranteeing their origin and superior quality.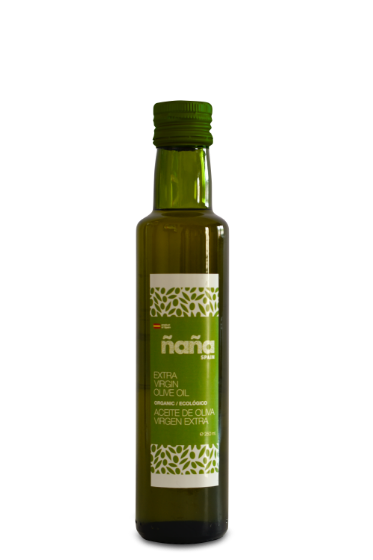 Organic Extra Virgin
Olive Oil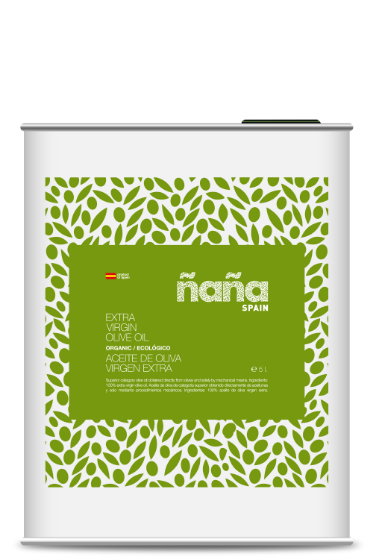 Organic Extra Virgin
Olive Oil
Organic Extra Virgin
Olive Oil